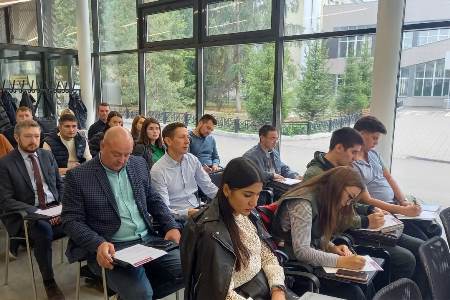 13/09/2023
Seminar on energy saving for KSUAE students and industry specialists from the "Ridan" company
On September 12, 2023, at the Scientific and Educational Center "Systems" a technical seminar was held for specialists, as well as students and graduate students of the KSUAE Department of Heat Power, Gas Supply and Ventilation on the topic: "Ridan equipment for heating systems and heating points".
The event was organized by specialists from the Kazan representative office of Ridan-Trade LLC. Using examples from practice, the presenter of the seminar, head of the regional Volga training and service center Alexey Salmin, spoke in detail about technical innovations and solutions implemented on the basis of energy-saving equipment from the Ridan company.
Listeners actively participated in the discussion of the problem of import substitution, asking questions about the effectiveness, quality and reliability of domestic analogues. The topic of using Ridan calculation programs in the design of heating systems and block heating units became relevant for students.
Ridan (formerly Danfoss) has been a partner of KSUAE in equipping our Center "Systems" since 2018. The event was held as part of the All-Russian festival of energy saving and ecology #BrighterTogether-2023.
The News is submitted by International Relations Dept of the University.