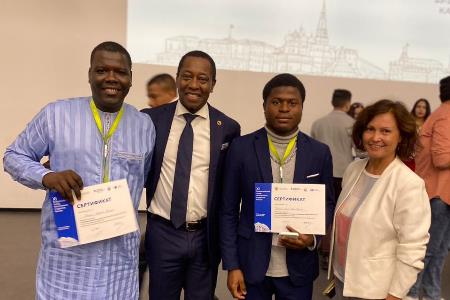 18/09/2023
The Association of International Students (AIS) of KSUAE took part in the XI All-Russian Congress of Foreign Students of Russia
On September 14-16, 2023 Kazan hosted the Congress bringing together over 300 delegates - foreign students from 34 Russian Universities, representatives of 42 countries of the world, as well as employees of federal and regional legislative and executive authorities of the Russian Federation, Russian universities, public and other organizations.
The Association of International Students of Russia (AIS) started its work in 1996 and today unites about 100 thousand people from more than 160 countries studying at Russian universities.
The Congress is aimed at attracting the attention of government authorities to the existing problems of foreign students in Russia.
Our Department of International Relations and representatives of the Association of International Students (AIS) of KSUAE (students from Chad, Kazakhstan, and Benin) took part in the events of the Congress.
On September 14, the official opening of the Congress took place. The event was opened by the President of the AIS of Russia, Issa Shaabo, who said that at the Congress the association sums up the work done and outlines plans for the future.
The founder of AIS Russia, General Director of Incorvuz-XXI, ex-ambassador of the Republic of Benin to the Russian Federation and the CIS countries Anicet Gabriel Kochofa said that Kazan is his hometown. "Here I took part in the opening of the Universiade in 2013, met with students, the President of Tatarstan, rectors, and residents of the Republic. Every year I visit Kazan and other cities of Tatarstan at least 2-3 times," recalled the founder of AIS. Kochofa, who has been living in Russia for 42 years, spoke about the history of the creation of the AIS of Russia, noting that at first it included only four foreign students. At the end of his speech, he said that it is necessary to strengthen friendship between peoples and believe in Russia.
During the Congress the KSUAE reppresentatives participated in different project sessions and master classes on socio-cultural adaptation of foreign students in Tatarstan, opportunities for foreign students in Russia, their present and prospects, on interaction between foreign student associations and national-cultural communities.
On the official ceremony all delegates were presented with participation certificates.
At the end of the Congress all participants enjoyed a wonderful final concert with the participation of local creative groups of the Youth Assembly of, the League of Students of Tatarstan and the Association of Foreign Students. And of course there would be dancing.
The Congress provided us an opportunity to make friends with foreign students from other Russian universities, and now we plan to work together to improve the lives of foreign students in Russia.
The News is submitted by International Relations Dept of the University.