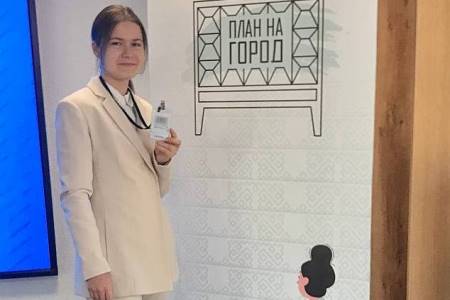 20/09/2023
KSUAE student Veronika Korotkova became one of the best in the All-Russian urban competition "City Plan 2023"
Veronika Korotkova, a 3rd year student at the Institute of Architecture and Design of KSUAE, took part in the final stage of the All-Russian youth urban competition "City Plan - 2023", which was held in the city of Nyagan, Khanty-Mansi Region of Russia.
Our student was among the 30 best participants selected from 300 applicants at the online stage. Veronica submitted a concept for the improvement of the 4th microdistrict in the city of Nyagan to the competition.
Over the course of three days, the finalist teams completed the semi-final competition concepts, assessed by leading specialists and experts in the field of urbanism, and took part in the final defense of their projects. "I was able to reach the finals of the competition and take part in real design for the city thanks to studying with excellent teachers of KSUAE, who set practical tasks for students and encourage them to participate in competitions, as this is important for a future architect," says Veronika.
The goal of the All-Russian competition "Plan for the City" is to train young specialists under the guidance of experts in the field of territorial development; Thanks to working in teams, participants acquire competencies in issues of urban planning, environmental design, and architecture.
The News is submitted by International Relations Dept of the University.