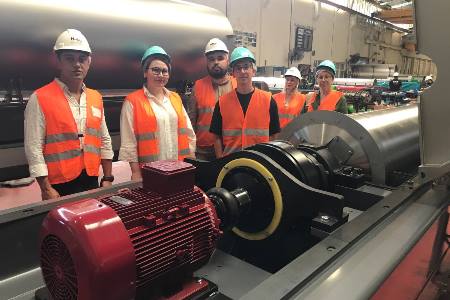 14/08/2023
Teachers of KSUAE completed an internship at HAUS in Aydin (Türkiye)
Teachers of KSUAE - Head of the Department of Water Supply and Sanitation (WSS) Runar Abitov, Senior Lecturer of the WSS Department Lilia Khisameeva, Associate Professor of the Department of Foreign Languages Ruslan Abitov, Post-graduate student of the Department of WSS Ramis Alimov - from August 1 to 10, completed an internship at HAUS in Aydin (Turkey).
The internship became possible thanks to the program of grants of the Government of the Republic of Tatarstan "Algarysh".
During the training, the experience of using decanter centrifuges for dewatering sewage sludge and turboblowers for aeration systems of biological treatment plants was studied.
The topics of the internship were focused on the application of modern technologies for the treatment of domestic and industrial wastewater and the treatment of sludge formed during the purification process, namely: • design standards for sludge treatment facilities and turbo blowers for aeration systems; • production of sludge treatment plants and turboblowers; • Experience in operating HAUS equipment at wastewater treatment plants in Izmir (Turkey).
We look forward to further successful international cooperation!
The News is submitted by International Relations Dept of the University.