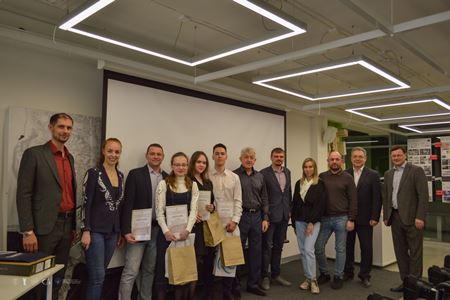 21/04/2023
The team of KSUAE is the winner of the International Olympiad in Heat and Gas Supply and Ventilation
From April 18 to April 20, 2023, the final stage of the International Student Olympiad in Heat and Gas Supply and Ventilation was held at KSUAE. Representatives of 19 universities took part in the Olympiad.
From KSUAE participated 4th year students studying in the specialization of "Engineering life support systems in construction" - Aliya Bikmullina, Artur Galimzyanov and Maria Chukhlova.
The participants of the Olympiad solved the tasks: the theoretical part consisted of test questions, the practical part consisted of 10 tasks from the field of designing heat and gas supply systems, heat generating installations, heating, ventilation, air conditioning, as well as from the field of fundamental disciplines: building thermal physics, technical thermodynamics and hydromechanics.
Checking student solutions was hot, but the main part of the jury is not the first time coming to such events, and therefore a competent organization made it possible to evaluate all the works with the participation of the main number of jury members, which ensured maximum objectivity. During the check, the jury members noted the high level of professionalism in solving various kinds of problems among the participants, and it was decided, in addition to determining the absolute winners, to note the students who showed the highest results in solving problems in various disciplines. On the third day of the Olympiad in the architectural and educational space "BFFT.space" the participants were awarded and the winners of the Olympiad were honored. The award was given by the Rector of KSUAE Rashit Nizamov.
The victory in the final stage of the International Student Olympiad in Heat and Gas Supply and Ventilation was taken by a team of students of KSUAE! 2nd award - Belgorod State Technological University. V.G. Shukhov, 3rd award - the team of the Ural Federal University.
The best result was shown by a student of KSUAE Artur Galimzyanov - 1st award in the individual competition; 2nd award - a student of KSUAE Maria Chukhlova, our third participant Aliya Bikmullina took 6th award.
Congratulations to the students of KSUAE and their mentors on the victory!
The News is submitted by International Relations Dept of the University.