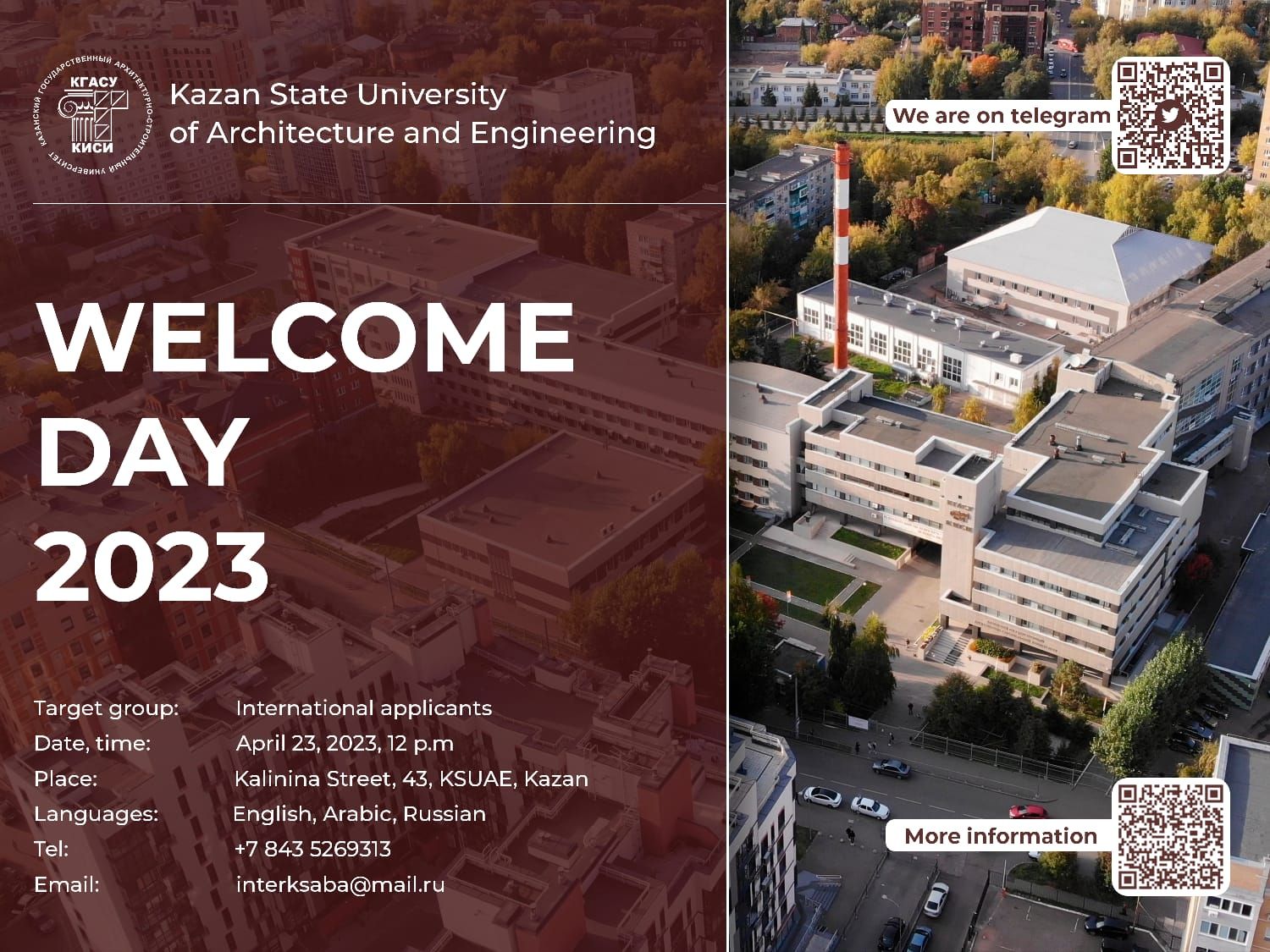 WELCOME DAY AT KSUAE on 23rd April, at 12 p.m!
For international applicants!
The Welcome Day is addressed to all international applicants who would like to pursue their Bachelor's or Master's degree in Civil and Industrial Engineering, Architecture, Urban Planning, Restoration of Architectural monuments, Architectural Design, Landscape Design, Transport facilities and infrastructure (construction of roads, tunnels, bridges, digital technologies, transport safety and management),
as well as to international applicants who wish to take a preparatory year of the Russian language at our University.

Our Welcome meeting will take place on April 23, at 12 p.m (Sunday), in Kalinina Street, 43
with the Tour along our Campus and the main university facilities exploring Schools and Academic centers, talking about our programmes of study. After the tour the Rector Prof. Rashit Nizamov will welcome all international applicants in Aula Magna. The event is also a good occasion to raise questions about any doubts or curiosities you may have about our University.

The Day will be held in English and Russian languages.

We are looking forward to meeting you!
Please you are welcome to fill in the brief questionnaire to be registered to our Welcome Day.
Please see our previous Welcome Day for international applicants here.
In case of any inquiries about the Day or our University

you are welcome to contact International Relations Dept of the University
Tel: +7 843 5269313; Email: This email address is being protected from spambots. You need JavaScript enabled to view it.
Zelenaya Street, 1 - 420043 Kazan, Tatarstan, Russia
Academic building No. 3, room 3-219
We are on Telegram t.me/KazUniverArchitEngineer
The News is submitted by International Relations Dept of the University.