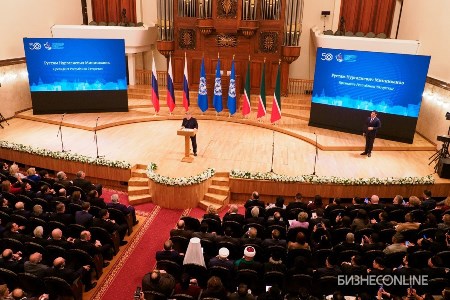 05/12/2022
Rector of KSUAE R.K. Nizamov took part in the International Forum dedicated to the 50th anniversary of the Convention on the Protection of the World Cultural and Natural Heritage
On December 5, 2022, in Kazan, in the Big Concert Hall named after S. Saidashev, the opening of the International Forum dedicated to the 50th anniversary of the Convention on the Protection of the World Cultural and Natural Heritage took place.
The event was attended by the President of the Republic of Tatarstan, Chairman of the Strategic Vision Group "Russia - Islamic World" Rustam Minnikhanov, Minister of Culture of the Russian Federation Olga Lyubimova, State Counselor of the Republic of Tatarstan, UNESCO Goodwill Ambassador Mintimer Shaimiev, Executive Secretary of the Commission of the Russian Federation for UNESCO Grigory Ordzhonikidze, delegations from a number of foreign states.
The Rector of KSUAE R.K. Nizamov took part in the international forum. The Convention Concerning the Protection of the World Cultural and Natural Heritage (the Convention), adopted by the 17th session of the UNESCO General Conference on November 16, 1972, is the most effective and representative among environmental conventions and programs. The main goal of the Convention is to unite the efforts of the international community to identify, protect and comprehensively support outstanding cultural monuments and natural objects on a global scale.
The News is submitted by International Relations Dept of the University.