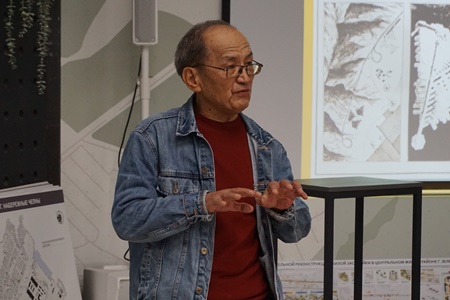 12/12/2022
Architect from Kazakhstan, professor of architecture Saken Narynov: "In KSUAE I saw the best that could be!"
On December 8, 2022, Honored Architect of the Republic of Kazakhstan, professor of architecture, inventor Saken Zhomartovich Narynov visited KSUAE.
At KSUAE, the guest was demostrated the research and educational centers of the Institute of Architecture and Design: BFFT.space, Heritage / Miras, Archphysics with the laboratory Acoustics, ArchTEP, Urban Planning / Urban Planning.
At a meeting with the KSUAE authorities and academic staff Saken Narynov expressed great admiration for the multifaceted activities in creating and equipping university centers, innovative methods for training architects, a high level of design work, separately emphasized the skill of layouts, the use of various materials and technologies, and noted that "In KSUAE I saw the best that can be!".
Then there was a lecture for students and teachers "The Magic of Saken Narynov's Architecture", during which Saken Zhomartovich introduced the audience to his many years of creative activity, realized and unrealized projects - winners of prestigious international competitions, inventions and, of course, his philosophy of understanding the world. S. Narynov's objects and projects were exhibited at more than 30 international exhibitions in Moscow (Russia), Plovdiv (Bulgaria), Ashgabat (Turkmenistan), Osaka (Japan), Berlin (Germany), Lyon (France), Lima (Peru), Copenhagen (Denmark) and others. S.Zh. Narynov is the creator and head of the Design Forecasting Laboratory of the Union of Designers of Kazakhstan, head of the Kopkyrly (Multifaceted) workshop, professor at KazGASA, Honored Architect of the Republic of Kazakhstan.
Saken Zhomartovich introduced students and teachers of the Institute of Architecture and Education with his experimental concepts in the field of architecture and monumental sculpture and patented inventions. In particular, the students were impressed by the mobile three-dimensional housing block (1981 patent), ecological clay dwellings, the project of the Great Egyptian Museum in Giza and many other unique developments. Narynov's interdisciplinary design method, whose structures are not only functional, aesthetic objects, but also complex technical inventions, impressed students and their mentors. This meeting was not only an extremely useful educational event, expanding the ideas of future architects about the possibilities of the profession, but also a friendly dialogue with the master, who, despite his unique inventions and public recognition, remains an open, friendly and modest person.
The one and a half hour meeting with Saken Narynov was permeated with amazing energy, ingenious simplicity, incredible love for our guest's work.
The News is submitted by International Relations Dept of the University.