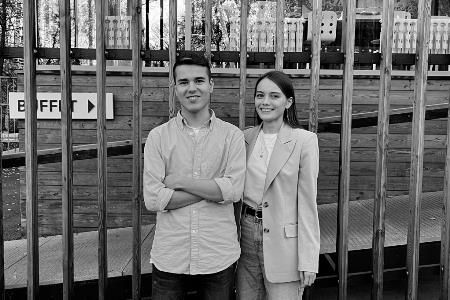 22/11/2022
Students-architects of KSUAE won a regular award in the field of architecture of the hospitality industry Radical Innovation (USA)!
The results of the Radical Innovation international award in the field of hospitality and travel architecture have been summed up!
The competition is a professional one and it has gathered a whole community of like-minded people over the years. It is important that the competition jury is represented by the largest specialists in the hospitality industry, who represent billions in assets of this business sector.
Within the annual competition, one student project-winner is selected, and this year the students-architects of KSUAE became the prize-winners again! Ksenia Krepkogorskaya and Danil Nazarov, 4th year students, became the laureates of the award 2022 with a reward of $1500!
Under the guidance of teachers Ilnar and Rezeda Akhtyamovs, students prepared an interesting and relevant proposal - the creation of campsites with public infrastructure on the roofs of shopping centers. Incredibly, according to statistics, the area of ​​roofs of shopping centers in the states is comparable to the area of ​​such a state as the Republic of Singapore! Thus, the Shopping&Camping project proposes to take spaces out-of-use that society can benefit.
The project was presented at the awards ceremony, which traditionally takes place in New York, in the video format describing the project proposal of the authors. It should be noted that this is the third victory of KSUAE students in this competition, and in 2019 even Forbes online magazine wrote about our architects. You can get acquainted with all the winning projects on the competition website: https://www.radicalinnovation.io/
Congratulations to the students of KSUAE!
The News is submitted by International Relations Dept of the University.