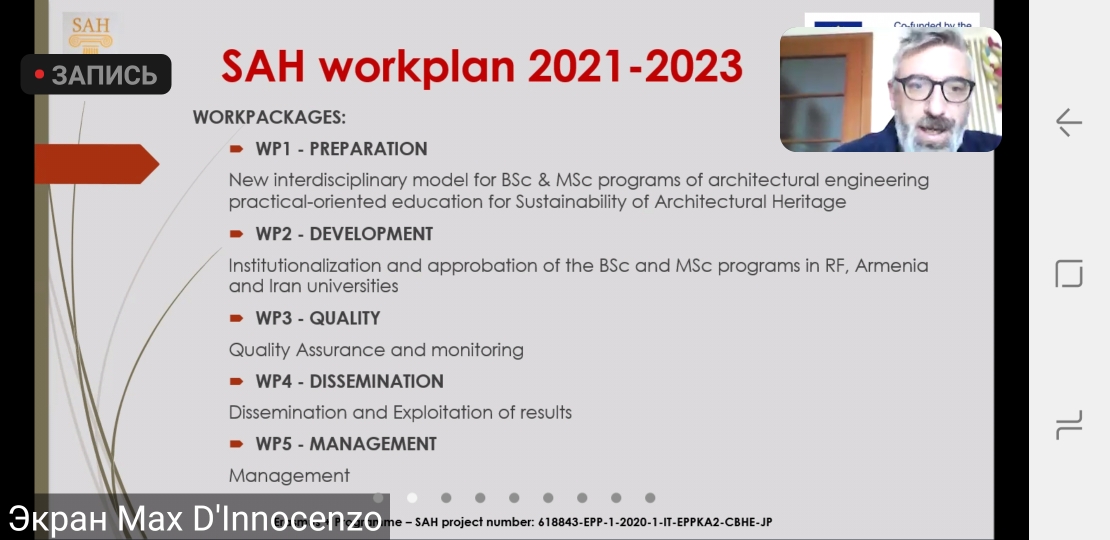 20/01/2022
KSUAE took part in the regular meeting of the Erasmus + project SAH "Capacity building in the field of sustainable development of architectural heritage"
On January 19, 2022, a regular meeting of the consortium of the international project "Capacity Building in Sustainablity for Architectural Heritage" (SAH) was held as part of the Erasmus + program. The project started in January 2021, and due to the current situation with the Covid-19, such meetings are still held online.
We remind you that the goal of the project is the following: based on the European experience gained during the project, the partner countries develop new academic disciplines and modules in the field of sustainable development of the architectural heritage; develop teaching aids for new disciplines; acquire the necessary equipment for research and create international network centers for heritage.
The meeting was attended by representatives of the University of L'Aquila, Italy (project coordinator), Germany, Greece, Armenia, Iran (Tehran and Tabriz) and Russia (Kazan, Moscow, Samara, Arkhangelsk).
During the meeting, the project participants, led by the chief coordinator, the University of L'Aquila, discussed the current status of the implementation of tasks for all work packages (there are 5 in total). KSUAE is a regional coordinator for communication with universities in Russia, Armenia and Iran and it is responsible for the second work package (WP2) of the project "Development: Institutionalization and approbation of BSc amd MSc in Russia, Armenia and Iran", together with the National Technical University of Athens (Greece).
In addition, the participants considered the quality of the project, the development of new modules for master's programs in the restoration and preservation of architectural heritage based on the analysis and monitoring of professional competencies previously carried out within the framework of the project, the possibility of holding thematic trainings from European partners in the next six months, got acquainted with the current project website, and also discussed the purchase of equipment for all partners and the timing of the preparation of the necessary reporting documentation.


The News is submitted by International Relations Dept of the University.