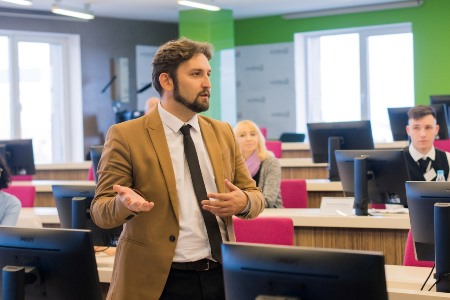 10/10/2023
KSUAE Associate Professor Alexey Ivantsov took part in the work of the jury of the International competition of architectural projects ArchSkilled
On October 6-7, 2023, the final stage of the International architectural competition ArchSkilled took place in Minsk, the capital of the Republic of Belarus.
Aleksey Ivantsov, associate professor of the Department of Architecture at the Institute of Architecture and Design of KSUAE, took part in the work of the jury, the only representative from the Russian Federation.
ArchSkilled is an international competition platform for students of architectural and construction colleges and universities, allowing future specialists to implement interesting ideas and solutions using modern aluminum profile systems and glazing in their coursework and diploma projects.
Participants were asked to develop architectural projects using ALUTECH aluminum profile systems and AGC glass in three categories: — low-rise residential building; — multi-storey residential building; - public building.
KSUAE has developed close cooperation with the organizer of the competition - the ALUTECH group of companies - in the educational field, conducting joint research and testing of roller shutter and facade systems.