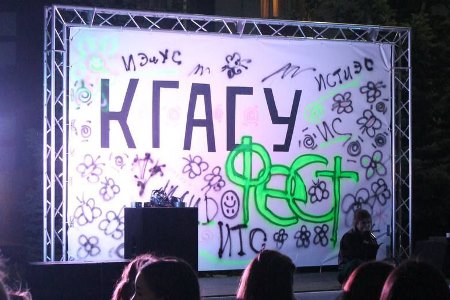 01/09/2023
KGASU.Fest - a fair of student organizations, a festival of dating, creativity, music, sports
On 1st September, KSUAE organized the festival KGASU.Fest for the 1st year students.
KSASU Fest is a place where freshmen get to know the university and its students, have fun and get ready for work!
The university Rector Rashit Nizamov gave the start to such an important stage for students. Every active freshman did not miss the chance to get his first photo with the Rector.
There was a wide variety of stations, market items, and rest areas!
Wwhat happened at the Fest?
The fair of student organizations showed first-year students what kind of associations we have at the university and what they do. The territory was divided into thematic locations, where student activists told first-year students and festival guests about various areas of the student council's work (student groups, volunteer center, environmental movement "It will be clean", security service, student media, cultural and entertainment projects, etc.).
Participants went through the interactives of each station and were satisfied.
The chill zone pleased the children with a cozy atmosphere with garlands, blankets, board games and game consoles.
On the sports ground, students competed in streetball and table tennis, and a dance master class was held nearby.
Various creative master classes, for example on beadwork, attracted the interest of first-year students who love to do things with their own hands.
The entire event was accompanied by music and songs (including original ones) from KSUAE graduates and students.
At the end of the event, the space in front of the sports complex turned into a dance floor.
The weekend was a lot of fun, and there are even more events ahead for students!
The News is submitted by International Relations Dept of the University.