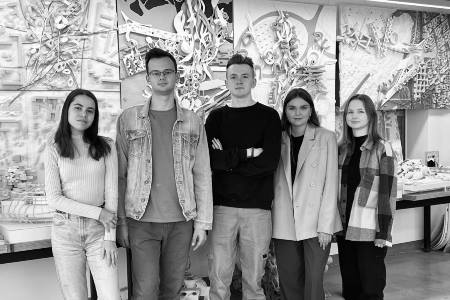 28/08/2023
Victory of students-architects of KSUAE in the international architectural competition AIA Phoenix Metro Design Ideas, USA!
At the end of August 2023 in Tempe (Arizona, USA), the American Institute of Architects (AIA) summed up the results of the 6th international architectural competition AIA Phoenix Metro Design Ideas, dedicated to the theme of sustainable development and climate change. In addition to the professional nomination, the organizers provided for two student awards.
And both prize-winning places were taken by teams from KSUAE! Junior students in teams prepared 4 projects over the summer, the teams became winners: Radmir Valeev and Daria Shel; Artyom Sultanov, Ksenia Egorova and Yana Sevastyanova.
The objective of the competition was to develop not just a "Resilience Center", but a public institution that supports residents, forms local communities, provides and coordinates assistance in case of an emergency, like a crisis center. In general, this is a real refuge for citizens, as the city is located in extreme climatic conditions, which requires extraordinary and well-thought-out solutions for the built environment.
The participants were offered a specific area for designing in the city of Phoenix, the contestants could independently determine the functional composition of the object and its parameters, use existing buildings, and also propose a network of similar objects throughout the city.
The competition jury noted how deeply the students were able to immerse themselves, study and take into account the climatic features of the Arizona desert, given that the guys themselves live in completely different climatic conditions in Russia.
The awards ceremony was held at the Arts Center in Tempe. It has become part of the monthly meeting of the American Institute of Architects (AIA).
Congratulations to students, teachers and the university on one more victory, which confirms the high level of training of our architects!
The News is submitted by International Relations Dept of the University.