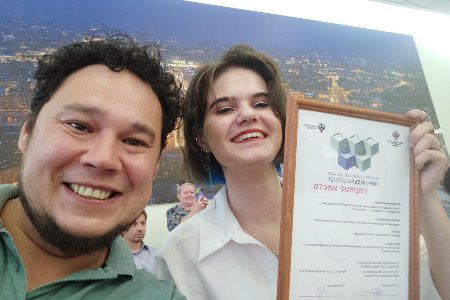 05/08/2023
KSUAE student Daria Smolyagina took 1st place in the VII All-Russian competition "TEAM LEADERS 2022/23"
On August 4, the Ministry of Construction of Russia presented awards to the finalists of the All-Russian open competition with international participation "TEAM LEADERS 2022/23". The winners and prize-winners received award figurines and diplomas.
Student of the Institute of Architecture and Design, together with the teachers of the Design Department R.R. Khafizov, K.O. Mkhitaryan, A.F. Ibragimova and I.K. Elkhani prepared and presented the project "Design of a large-span structure".
Daria's work took 1st place in the nomination "Student design projects using information modeling technology". In this nomination 12 works were presented throughout Russia.
"Futuristic volumes, large-span structures, towers, innovative spaces were proposed as a competitive project by a student of the Kazan State University of Architecture and Civil Engineering Daria Smolyagina." - this is how the winning project from KSUAE was described on the competition website.
The News is submitted by International Relations Dept of the University.