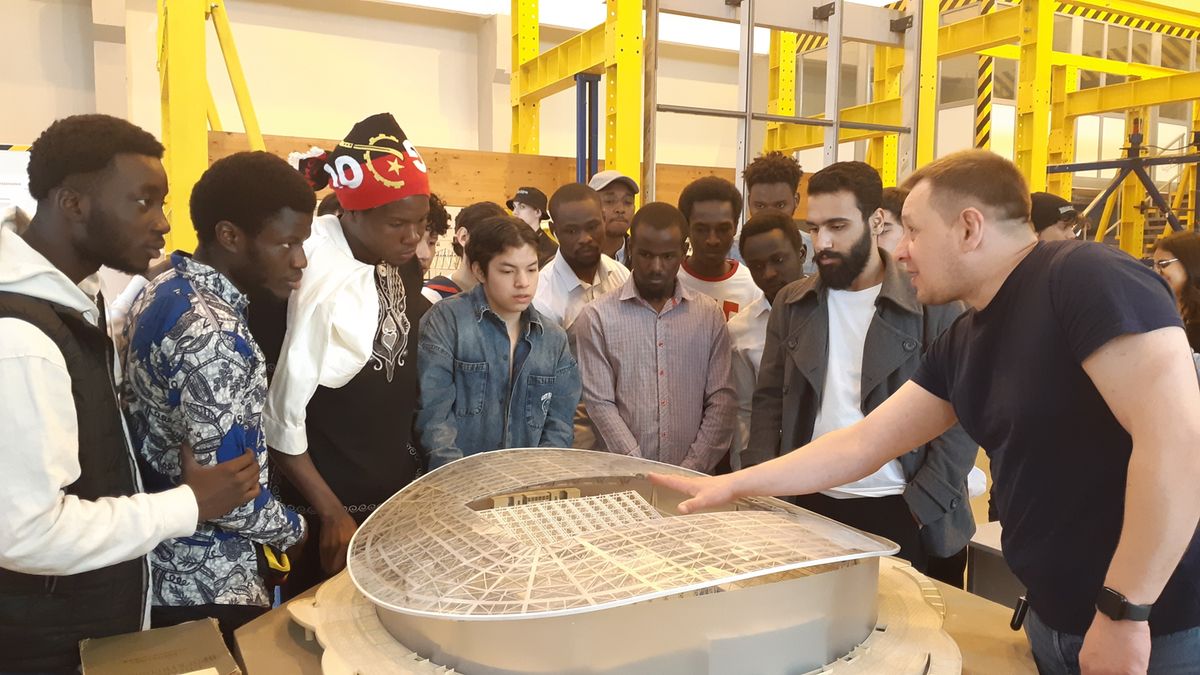 23/04/2023
International applicants from Kazan Universities visited KSUAE in the Welcome Day: "It's always better to see once than to hear hundred times"
On April 23, 2023, on the Welcome Day KSUAE hosted foreign applicants studying at preparatory courses in different Kazan Universities but planning to become students of our University, starting from September 2023.

The citizens of Angola, Morocco, Ecuador, Afghanistan, Colombia, Peru, Benin, Egypt, Congo, Chad, Guinea, Iraq, Algeria, Côte d'Ivoire came to see what study programmes and conditions are offered by our University and have been impressed by the comfortable educational environment, equipped and spacious conditions in which our students have their daily classes.
A tour around the University campus was organized for them with the visit also to our innovative academic and research centers such as: "BFFT.space", the Center for Engineering Systems in Construction "Systems", "Strength", "Technology", "Roads", "Urban Planning», «Digital», «Heritage», «Architectural Physics», «Base», «Development». In the centers, they got acquainted with the laboratory equipment that is used during training sessions with students and for research, as well as with the innovative developments of our staff and scientists in the field of architecture, construction, and the road transport sector.
In addition, foreign guests got acquainted with the University sports complex and university dormitories.
After a long walk around the University campus, foreign guests were invited to a coffee break, during which they were treated to national sweets and pastries prepared by the chefs of our canteen.
The official part of the event was held in the Assembly hall. The Rector, professor Rashit Nizamov welcomed all the international guests which shared their enthusiastic impressions of visiting the University, and also learned about the admission procedure of foreign citizens to educational programs of KSUAE in 2023.
At the end of the event, the guests watched a wonderful concert organized by foreign and Russian students of the University.
If you wish to visit us once again or invite your friends interested in our University, it"s enough just
📞 +7(843) 5269313/17 or
📧 send us a message to This email address is being protected from spambots. You need JavaScript enabled to view it.
Follow us on Telegram in English KSUAE / KGASU (Kazan) https://t.me/KazUniverArchitEngineer
The News is submitted by International Relations Dept of the University.