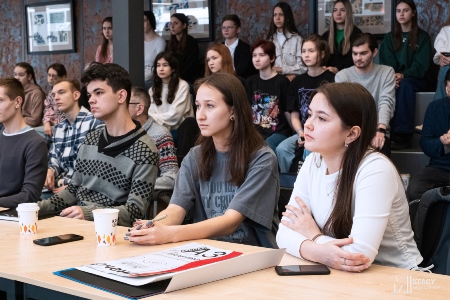 13/02/2023
KSUAE hosts a project seminar "Awakening" on the development of art objects for the festival "Art Spring"
On February 13, 2023, a project seminar on the development of concepts for art objects for the Art Spring youth festival was opened at the academic and research center "Heritage" for Architectural Restoration.
The organizers of the seminar are: Institute of Architecture and Design (IAD) of KSUAE, Children's Architecture and Design School "DASHKA" and Cultural Center "Moskovsky".
The traditional youth festival "Art Spring" will be held on March 5, 2023 in the cultural center "Moskovsky". This year the festival celebrates its fifth anniversary. The purpose of the festival is to unite different types of contemporary art: architecture, music, fashion, design, art objects, painting, graphics, etc.
The project seminar is attended by students of IAD and students of "DASHKA" school under the guidance of teachers-coordinators. The seminar will last three days, already on February 15, 8 participating teams must present their conceptual solutions to the jury. Four winning projects will be implemented in the exhibition hall of the Moskovsky Cultural Center. The work in the project teams is organized at two sites of KSUAE: in the centers "Heritage" and "Urban Planning".
We wish the participants successful and fruitful work!
The News is submitted by International Relations Dept of the University.