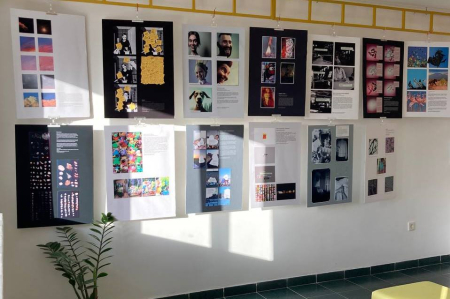 11/02/2023
Students of the Design Department of KSUAE presented their creative works in the framework of the exhibition "What excites me"
"What excites me" is the name of the exhibition of creative works of students of the Design department (group 9GD01), the area of study "Graphic design", organized under the guidance of the senior teacher A.F. Ibragimova.
The works were completed by graduate students as part of the completion of their educational process in the disciplines "History of Art" and "History of Graphic Design". For more than three years of immersion in the historical features of the development of art, studying the creative methods of world authors of painting, architecture and design, students are invited to prove themselves as a modern artist who is not limited by the topic and tools, but with the help of the skills and knowledge of creation acquired at KSUAE contemporary conceptual art projects will try to make something of his own, unique, a kind of project-statement on exciting personal topics. Here are relationships with parents, with friends, regret for lost time, dissatisfaction with modern society and consumer society, study and, of course, love. In general, everything that can excite the young, kind and sincere soul of our students.
The works are made in the following techniques: collage, photography, computer graphics, painting - and presented on tablets with a conceptual written explanation. The exhibition is held at the Department of Design from January 15 to June 15, 2023 at the address: Ershova St, 31b.
We invite everyone on March 19, 2023 at 10:00 to the Open Day of the Design Department of KSUAE. In the program: exhibition of term papers and diploma works of students of the department; acquaintance with the main areas of study at the department: environmental design, interior design, graphic design, landscape design; answers on questions. We are waiting for everyone at the design department at the address: Ershova St, 31 B, 5th floor, room 502!
The News is submitted by International Relations Dept of the University.