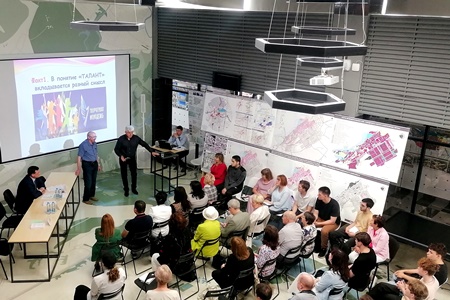 21/09/2022
Within the XXXI International Competition-Exposition of Graduate Qualification Works in Architecture, Design and Art, the conference in the section "Science and Universities" was held at KSUAE
On September 21, 2022, within the XXXI International Competition of Graduate Qualification Works in Architecture, Design and Art, the scientific and practical conference was held at KSUAE: "Science and Universities. Architectural and construction education. Digitalization in architecture and construction (moderated by Vice-Rector for Education of KSUAE Ilfak Vildanov). The conference was held in the scientific, educational and design center of KSUAE "Urban Planning".
At the meeting, participating universities discussed topical issues of architectural and construction education, the introduction of digital technologies in educational and design processes, and discussed many issues that concern the university community today.

The News is submitted by International Relations Dept of the University.