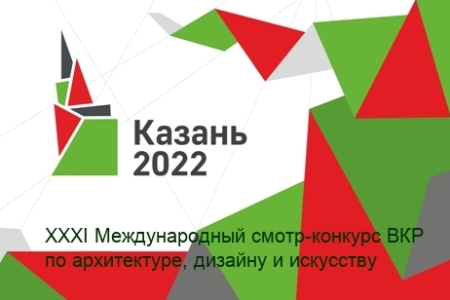 19/09/2022
The XXXI International Competition-Exposition of Graduate Qualification Works in Architecture, Design and Art has opened at KSUAE
On September 19, Kazan State University of Architecture and Engineering (KSUAE) opened the XXXI International Competition-Exposition of Graduate Qualification Works in Architecture, Design and Art. This is the most prestigious competition among architectural and design universities in Russia and the CIS countries.
The exposition is organized by the Interregional Public Organization for the Promotion of Architectural Education (MOOSAO, Moscow) with the participation of the Federal Educational and Methodological Association in the Higher Education System, with the support of the Russian Academy of Architecture and Building Sciences (RAASN) .
The competition annually gathers together representatives of various Russian universities from Komsomolsk-on-Amur to Belgorod, as well as neighboring countries: Armenia, Kyrgyzstan, Azerbaijan, etc.
The projects of specialists, bachelors and masters are presented in the following areas: architecture, design and art, in total 33 evaluation commissions have been formed in 22 nominations. The best works will be awarded with special diplomas from the Russian Academy of Architecture and Building Sciences, the International Association of Unions of Architects, the Union of Architects of Russia, the National Association of Surveyors and Planners, the National Academy of Design, as well as the International Prizes. L.M. Khidekel for innovative and environmentally friendly solutions in architecture, diplomas from Archiprix, the City Development Institute, the Union of Architects of the Republic of Tatarstan, the chief architect of the city of Kazan, etc.
702 graduation qualification works from 58 universities were submitted to the competition in 2022. 250 representatives of these universities came to Kazan to participate in the exposition.
On September 19, the meetings of two sections of the International Scientific and Practical Conference on Architecture, Design and Urban Planning were held at the scientific and educational centers of KSUAE "BFFT.space" and "Urban Planning". At the meetings, particpating universities discussed topical problems of modern regional architecture, problems of preserving historical and architectural heritage, issues of organizing urban space, etc.

As part of the competition, the International Competition of Scientific and Educational Literature on Architecture, Design and Art will also be held. The results of the event will be summed up at the closing ceremony on September 23, 2022.
The News is submitted by International Relations Dept of the University.