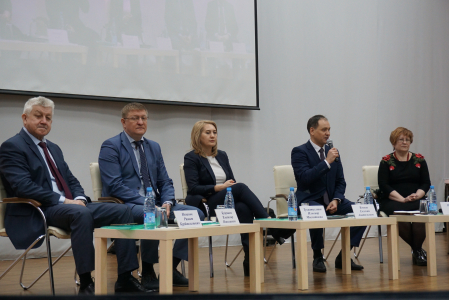 29/04/2022
Plenary session of the 73rd International Conference and III International Conference STCCE-2022 was held at KSUAE

On April 29, 2022, the final plenary session of the 73rd International Scientific Conference on Architecture and Construction and the III International Conference "Sociotechnical Civil Engineering" (STCCE-2022) was held in a hybrid format in the assembly hall of KSUAE. The meeting was broadcast on YouTube.
The plenary session was opened by the Rector of KSUAE, doctor of technical sciences, professor, corresponding member of the Academy of Sciences of the Republic of Tatarstan R.K. Nizamov, noting the work and achievements of scientists, graduate students, students who actively participated in the conferences from April 21 to April 29 in all declared scientific areas, and also highly appreciating the level of the conferences and the composition of the participants.
Also with greeting words the Deputy Minister of Construction, Architecture, Housing and Communal Services of the Republic of Tatarstan V.N. Kudryashev, Chief architect of the city of Kazan I.M. Tukhvatullina, First Vice-Rector of Peter the Great St. Petersburg Polytechnic University (SPbPU) V.V. Sergeev, Chairman of the Society of Inventors and Innovators of the Republic of Tatarstan A.A. Povarov took floor. Scientists from Turkey, Uzbekistan, Great Britain, Greece, China, and Italy made interesting presentations online at the plenary session.
Vice-Rector for Research of KSUAE, Candidate of Technical Sciences, Associate Professor E.A. Vdovin reported on the general results of the work of the conferences, which were attended by scientific and pedagogical workers, graduate students, students from different countries of the world and different cities of Russia. The total number of participants in 73 MNCs was 815 people who made 678 presentations. The total number of participants at STCCE-2022 is 208 people who made 153 presentations. At the end of the plenary session, speeches by doctoral students were made.
Annual scientific conferences are held at the Kazan State University of Architecture and Engineering in order to create an open platform for the exchange of advanced scientific information, the results of fundamental and applied research of scientists and specialists in the field of construction and architecture, to increase the demand for the scientific and technical potential of Russian scientists and to search for opportunities to apply the results scientific research.
The News is submitted by International Relations Dept of the University.