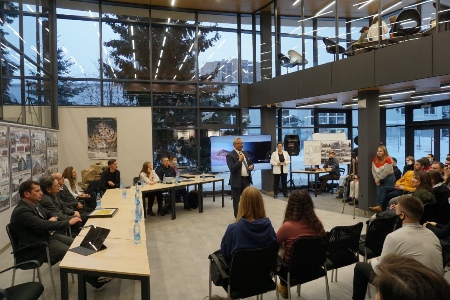 18/02/2022
Winners of the International competition of projects of the Tatar theater at KSUAE

On February 17, 2022, the winners of the international competition for the project of the future theater named after. G. Kamala.
In total, 537 participants registered for the contest, as a result, applications from 26 consortiums and 13 individual contestants from 14 countries were considered. 8 consortiums with the participation of Kazan and foreign architects made it to the final:
- "East Wind": KSUAE, Da! Architects, Dialog Urban Planning;
- Novikov Architectural Practice from Kazan, Borgos Pieper from Barcelona and Theater Projects from London;
- Metropolis from Moscow, Coop Himmelb(l)au from Vienna and Myriad Group from Kazan;
- Bureau Wowhaus from Moscow, Kengo Kuma & Associates from Tokyo, Werner Sobek from Stuttgart and "PTM architect Bakulin German Alekseevich" from Kazan;
- TPO Pride, Zaha Hadid Architects, Atelier Ten and Theater Projects;
- Theater Laboratory: Rozhdestvenka Bureau and Buro Smart;
- Bespoke and Asif Khan Studio;
- Megabudka, FORM Bureau and ZARF architects.
The consortium "East Wind" under the leadership of KSUAE was among the 8 finalists of the international open competition of architectural concepts for the new building of the G. Kamal Theater. KSUAE is represented by architects - TIArch studio of teachers Ilnar and Rezeda Akhtyamov. The second member of the consortium is the Chinese bureau DA! Architects (Shanghai, China), co-founded by Anna Andronova, graduate of KSUAE 2016, winner of many international architectural competitions.
The meeting at KSUAE was interesting and useful, the students asked many questions about the projects and received a lot of valuable advice from professional architects. Managing Partner, Deputy General Director of Metropolis (Moscow) Mukhamed Nasser invited KSUAE students for an internship.
The News is submitted by International Relations Dept of the University.