09/06/2020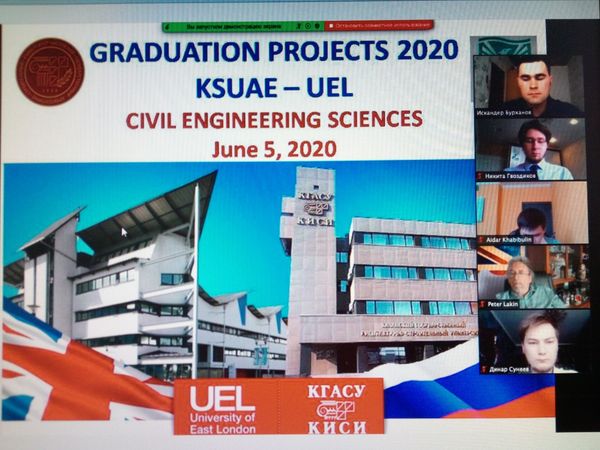 On June 5, 2020, the sixth graduation of students of the dual degree programme KSUAE-University of East London (UEL) in the area of "Civil Engineering" took place at our University. The presentations of graduation projects took place online. All presentations were entirely in English.
The rector of KSUAE, Prof. Rashit Nizamov, noting the long-term delivery of the British programme at our University, its achievements wished successful presentations to the graduates.
The examination Board consisted of the professors from the University of East London:
Peter Lakin - expert and senior lecturer in the field of BIM technologies and engineering surveys, Honorary Professor of KSUAE;
Fawad Inam - Dean of the Faculty of Engineering and Computer Programs, Professor of Mechanical Engineering;
as well as the teaching staff of the Institute of Construction of KSUAE, involved in the delivery of the programme in this area.
The topics of the presentations were topical issues of construction of multifunctional high-rise and residential buildings, parking spaces, a combined-type overpass, an exhibition pavilion, reconstruction of drainage systems and sections of highways. The Board noted the diversity of the problems touched in the construction industry. Colleagues from the University of East London noted the high quality of the completed projects and the competent use of professional terminology in English.
We congratulate the graduates of 2020 with the completion of the Programme and with that in addition to the Russian bachelor's degree of KSUAE, they will get its international (British) equivalent - from the University of East London!
The KSUAE-UEL dual degree programmes have been delivered at our University since 2012.