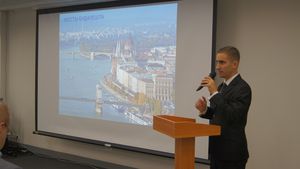 Consul General of Hungary in Kazan
October 24, 2018
Opening of an exhibition "Bridges of Budapest" took place in architectural and educational space "BFFT.space" of KSUAE. The day is also known as national holiday of Hungary and all-Russia holiday "Road engineering workers' day".
Rector of KSUAE Rashit Nizamov, Consul General of Hungary in Kazan, Adam Shtifter, Deputy Minister of transport and road economy of Tatarstan Artyom Chukin, the vice-rector for research work of Evgeniy Vdovin, vice-rector on organizational-legal and educational work, David Kardonick, director of the School of transportation structures Alexey Fomin, director of the School of architecture and design Karina Nabiullina took part in the ceremony.
Representatives of bridge and road contractors of Tatarstan, teachers and students of KSUAE were welcome to the exhibition.