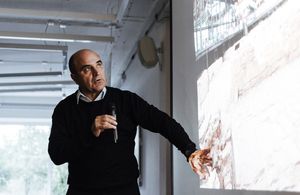 Architect, Spain
June 15, 2017
Vicente Guayart delivered an inspiring speech for architects in "BFFT.space" of KSUAE.
On June 15, 2017, the architect Vicente Guayart, a former chief architect of Barcelona, one of the founders of the famous architectural school iAAc in Barcelona, told the students of KSUAE and numerous guests about his work.
His bold views, decisive actions, completed projects, teaching activities can inspire young specialists for professional development.
Based on his own experience, Vicente spoke about the principles he adheres to, that cities should be primarily focused on people, on pedestrian connections. During his tenure as a chief architect, with the support of the mayor of the city of Barcelona, he made significant changes in urban planning of the city.
Moreover, Vicente Guayart told about his great attention to prototyping while his pedagogical experience in laboratories of mixed disciplines.