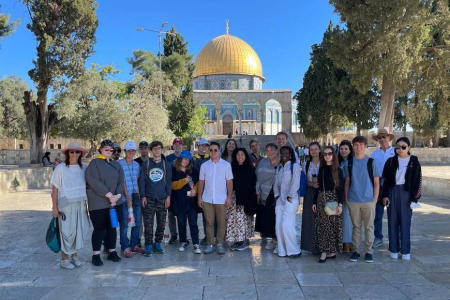 21/07/2022
Teachers and graduate students of KSUAE undertook the internship in Israel "Urban planning policy in multicultural cities"
From June 27 to July 21, lecturers and post-graduate students of the Department of Urban Planning Zakiyeva L. F., Orlova N. G. and Belonogova K. A. undertook an internship at the Rotberg International School in Jerusalem under the program "Urban Planning Policy in Multicultural Cities".
The course was led by Professor Yitzhak Reiter, a well-known Israeli political scientist, head of the Ashkelon Academy's Research Center and Department of Israeli Studies, Senior Fellow at the Jerusalem Institute for Political Studies and the Harry S. Truman Peace Research Institute. The high qualification and dedication of the professor to Islamic, Middle Eastern and Israeli studies could not but affect the overall high rating and positive impressions of the internship and the knowledge gained during the training.
During the internship, the teachers studied the phenomenon of the Old City in Jerusalem and the peculiarities of its planning, got acquainted with urban planning in the context of the Arab-Israeli conflict, studied territorial planning and urban development in Arab and Jewish regions, and revealed the design features of modern residential complexes. The peculiarity of this course was that lectures within the walls of the university were closely intertwined with trips to the city, where the theoretical material was clearly demonstrated.
In addition to our participants, the study group included students and teachers from the USA, Japan, Korea, Australia, and Canada. The multinationality of the team contributed to the establishment of new professional and friendly ties. During the internship, the teachers of KSUAE gained invaluable experience and knowledge, which will undoubtedly be applied in design and research activities in the Republic of Tatarstan, and after successfully passing the final work, they received a certificate of completion of the course.