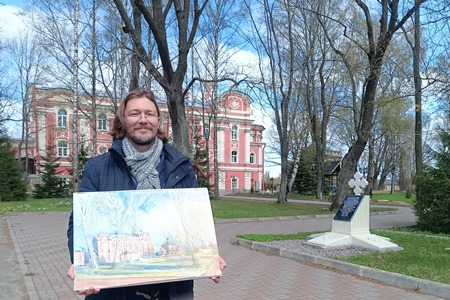 02/05/2023
KSUAE - participant of the International Plein Air Exhibition Project "Russian Atlantis"
Head of the KSUAE Department of Theory and Practice of Architecture I.V. Krasnobaev took part as an artist in the anniversary session of the International Plein Air Exhibition Project "Russian Atlantis" in St. Petersburg. The event opened on May 1, 2023 with a collective exhibition in the spiritual and educational center "Svyatodukhovsky" in the Alexander Nevsky Lavra. The exhibition featured two watercolors by Ivan Krasnobaev. Then a group of more than 50 artists started a multi-day plein-air marathon, which resulted in a final public display of their works. Some of the watercolors I.V. Krasnobaev donated to the organizers.
"Russian Atlantis" is a non-profit artistic and patriotic project with a 10-year history, designed to stimulate the development of Russian realistic art, involving highly professional painters, teachers and students of educational institutions in creative cooperation. More than 100 plein airs, more than 70 exhibitions were organized within the framework of the project, not counting many other events, through which more than 1000 domestic and foreign artists have passed.
Until October 2023, Russian Atlantis plein airs will be held at 14 more historical locations in Russia, including from June 12 to 23 in the Raifa Monastery near Kazan.
The News is submitted by International Relations Dept of the University.