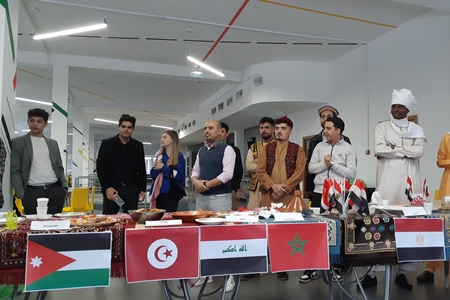 21/03/2023
In honor of the "Navruz" holiday, the Festival of National Cuisine of the Peoples of the World was held in KSUAE
In many countries, on March 21, Navruz is celebrated, which originated before our era and is associated with the arrival of spring, the beginning of a new period; for some cultures, the celebration is even equivalent to the New Year. The word "Navruz" from Persian means "new day". It coincides with the date of the spring equinox. Ten years ago, UNESCO included the holiday in the List of the Intangible Cultural Heritage of Humanity. From that moment on, it is called "International Day of Navruz".
The holiday is an integral part of the national culture of many Eastern peoples, while it has nothing to do with religion. On this day, almost every family sets a festive table. Traditional treats for Navruz are sumalak - a dish of germinated wheat germ, sweet baklava and shekerbura. As a rule, a lot of legumes are served on the table, as well as barley and wheat cakes.
So, on March 20, on the eve of the spring holiday of Nauruz, KSUAE hosted the Festival of National Cuisine of the Peoples of the World with the participation of our University foreign students and listeners of the Russian language course. Foreign students in national costumes presented the most typical dishes of their national cuisine and shared their recipes. In particular, dishes from such countries as Chad ("asida" - a dish of wheat flour, rice with walnut sauce), Morocco ("tagine" with meat and vegetables), Egypt ("tamiyya" with beans; pasta casserole, minced meat and bechamel sauce; milk rice pudding, "sambusa"; "karkade" drink), Algeria ("mdeshta" - soup with cereals and beef; meatballs; "tamina" dessert), Jordan ("khomos", appetizer "Kubbeh (kibbeh)"), Afghanistan (gobli pilaf, rice milk, jalebi , Afghan brushwood "gosh fil - elephant ears"), Tunisia (cous-cous), Iraq ("briyani"; fried "falafl") and Turkey ("pide" and pizza "lahmacun"). Students and guests of the event had the opportunity to taste and appreciate unusual dishes.
In addition, foreign students from Afghanistan, Tunisia, and Syria sang national songs and recited poetry. All participants of the event congratulated each other on the holiday and wished all the participants health, happiness, good mood and excellent studies. At the end of the event, active participants of the Festival were awarded certificates with gratitude for their participation. The event was held in a friendly atmosphere. It was a warm, cheerful and very tasty holiday, made from the bottom of the heart. From now on, this holiday is planned to be held in KSUAE annually.
The News is submitted by International Relations Dept of the University.