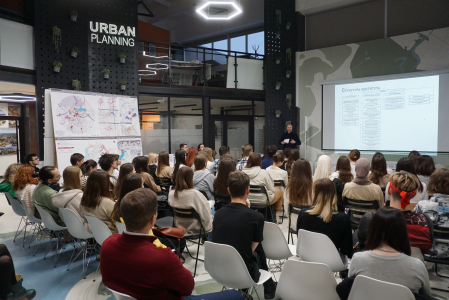 09/02/2023
Employers are waiting for architects-urban planners of KSUAE: "You are very lucky that you study at an incredibly cool university!"
On February 9, 2023, at the academic and research center Urban Planning, with the support of the Institute of Architecture and Design and the Department of Practice and Promotion of Employment of Graduates, at the initiative of the SETKA student project, a unique event was held for urban planning students with the intriguing title "What to do?".
The main goal of the event is the formation of a student professional community, the creation of a relationship between students and design organizations in the field of urban planning.
The director of the Institute of Architecture and Design (IAiD) Anna Ilyinichna Romanova delivered a welcoming speech. She supported the student initiative and focused on the importance of continuous self-development, especially effective in cooperation with employers.
The speakers of the event were: Tukhvatullina Ilsiyar - chief architect of the city of Kazan; Teregulov Eric - head of the master planning group of the State Budgetary Institution "Institute for Spatial Development of the Republic of Tatarstan"; Povyshev Roman , director of the MBU "Institute for City Development"; and students of 5th of study of the "Urban Planning" and at the same time architects of the "City Development Institute" and of the design bureau of Axiom Kazan LLC; Yamilova Veronika - Lead Architect-Urban Planner of the Our Yard Program, Institute for Urban Development of the Republic of Tatarstan Foundation.
The speakers told the students what their organizations are doing, about the implemented and ongoing project activities, about current projects in the field of architecture, design and urban planning. Students often asked questions about interaction with employers, what opportunities are available for them, what to look for when applying for a job/practice, what qualities, knowledge and skills a graduate student should have.
The chief architect of the city of Kazan I.M. Tukhvatullina paid great attention to the issues of interaction between the Institute for City Development and students, noted the huge demand for graduates of the Urban Planning department, and also invited students to work practice for the purpose of further employment. Students have a lot of ideas aimed at popularizing the urban development direction, which they are ready to implement in the near future. Head of the Department of Practice and Promotion of Employment, Associate Professor of the Department of Urban Planning A.V. Zaripova noted the importance of passing an internship, since students can gain invaluable practical experience and teamwork skills at this time.
The News is submitted by International Relations Dept of the University.