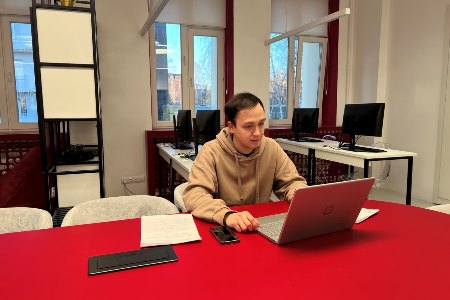 14/10/2022
KSUAE and "Gazpromneft-Bitumen materials" agreed on cooperation
Kazan State University of Architecture and Engineering (KGASU) and Gazpromneft-Bitumen Materials (St. Petersburg) have signed an agreement on cooperation in the field of professional training of road construction industry specialists. The document was signed by the Rector of KSUAE R.K. Nizamov and Director General of Gazpromneft-BM D.V. Orlov at the international specialized exhibition "Road 2022" in Kazan.
The agreement provides for assistance in the training and professional development of students, the exchange of experience between students, university teachers and Gazpromneft-BM experts, practical and optional classes, the possibility of undergoing industrial and undergraduate practice in the company.
Dmitry Orlov, General Director of Gazpromneft-Bitumen Materials: "The road industry is one of the drivers of the country's economy. In many ways, its development depends on the availability of qualified specialists, their knowledge and competencies. We are expanding cooperation with leading road construction universities. Partnership with KSUAE will allow us to help improve the quality of engineering education. We will provide students with the opportunity to interact with our experts, learn from their experience and skills. I hope that cooperation will show high efficiency both for us and the university, and for the entire industry as a whole."
Rashit Nizamov, Rector of KSUAE: "Working with technology companies is extremely important for our university. Targeted and integrated into the main educational process, professional training of students in specialized areas will help improve the overall level of qualifications of future specialists. Thus, together with Gazprom Neft - Bitumen Materials, we will solve the problem of meeting the demand of the Russian economy for competent, practice-oriented personnel."
KSUAE follows the trend of practice-oriented education on the basis of scientific and educational centers created at the university - the best in Russia in their areas and corresponding to the international level. The agreement with Gazpromneft - Bitumen Materials is part of this movement, where education and science are combined to solve production problems.
Gazprom Neft Bituminous Materials is a subsidiary of Gazprom Neft for the sale of bituminous materials and cokes. It was founded in 2014, but the bitumen direction in the company has been developing since 2008. Today the company occupies a leading position in the bitumen market of Russia. All the company's products, which include road, construction and roofing bitumen, polymer-bitumen binders (PBV), polymer-modified bitumen (PMB G-Way Styrelf), bitumen emulsions and bituminous mastics, comply with current Russian and international quality standards.
The News is submitted by International Relations Dept of the University.