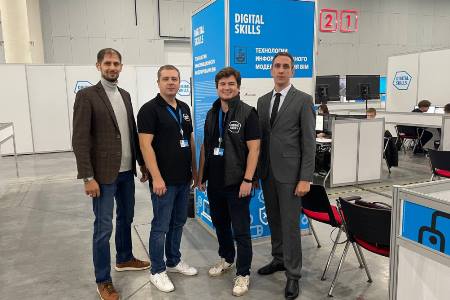 27/09/2022
Scientists and students of KSUAE took an active part in the International Forum Kazan Digital Week 2022
From September 21 to September 24, 2022, the International Forum Kazan Digital Week 2022 was held at the Kazan EXPO International Exhibition Center. The forum was organized by the Government of the Russian Federation, the Government of the Republic of Tatarstan. The main goal of the forum is to form an annual platform for scientific, technical and commercial communication between developers and users of digital transformation technologies, products and services. The events within the framework of the forum are aimed at solving the problems of the country's scientific and technical sovereignty, including the development of domestic software, technological leadership, data protection and the training of highly qualified specialists. More than 11,500 people participated in 143 program events in 10 key thematic areas and 4 partner conferences. 222 organizations and companies took part in the exhibition, held as part of the Kazan Digital Week 2022 International Forum. About 650 speakers made presentations, master classes and discussions.
As part of the stand of the Association for the Promotion of Digital Development, an exposition of KSUAE was organized, which presented the implemented projects of the university in the field of digitalization: 1) "Digitalization in the road transport complex" (Vice-Rector for Research, Head of the Department of Roads, Bridges and Tunnels E.A. Vdovin, Head of the Department of Digital Road Technologies L.F. Mavliev); 2) "Digital twin of engineering systems based on BIM-technologies and CFD-modeling (on the example of REC "Systems" of KSUAU)" (Professor of the Department of Heat Power, Gas Supply and Ventilation A.M. Ziganshin); 2) "Scientific and technical support for the restoration, reconstruction, and adaptation of objects of historical and cultural heritage using digital technologies" (Head of the Department of Building Technologies R.A. Ibragimov, Head of the Department of Information Systems and Technologies in Construction A.Kh. Ashrapov, assistant Department of Technologies of Building Production I.Kh. Galiev); 3) "Information technologies in construction" (Director of the Institute of Construction S.V. Stepanov, Head of the Department of Metal Structures and Testing of Structures A.V. Isaev).
The News is submitted by International Relations Dept of the University.