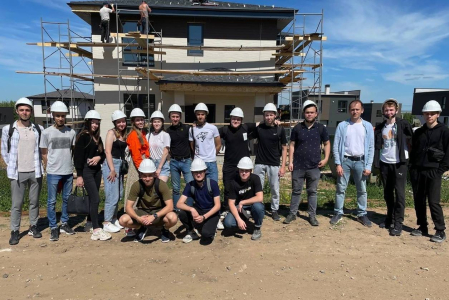 13/07/2022
First-year students undergo practical training in obtaining primary professional skills and abilities
In the period of July 4-12, 2022, first-year students of the Institute of Civil Engineering underwent an internship to obtain primary professional skills and abilities. Together with the head of practice, senior lecturer of the Department of Construction Production Technologies of KSUAE Ruslan Bogdanov, students got acquainted with the technologies of low-rise construction when visiting the Little Tokyo cottage village, and also carried out measurement and troubleshooting work on the WorldSkills building according to the competence "Organization of construction production" on the basis of KSUAE.
During a visit to the Little Tokyo cottage village, the company's chief engineer, Alexei Petrov, shared with the students detailed information about the construction technology, materials used, and the quality control system. Students were able to study the various stages of the integrated development of the territory: providing a land plot with communications, foundation work, building a frame and finishing work. It was interesting to inspect the houses under construction, the most informative was the study of the supporting structure. The students were also able to appreciate the low-depth strip foundation, developed specifically for the company by employees of the Department of Construction Technologies of KSUAE. In the course of the work, they acquired the skills of using measuring tools and instruments (laser range finder, laser axis builder, etc.), as well as carrying out measurement and troubleshooting work.
The News is submitted by International Relations Dept of the University.