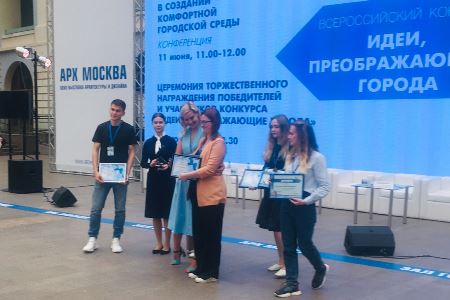 14/06/2022
Students of KSUAE became the winners of the All-Russian competition "Ideas that transform cities"
Associate Professor of the Department of Theory and Practice of Architecture Natalia Kinosyan, as well as students of the Department of Architecture took part in the fifth All-Russian competition "Ideas that transform cities" 2021-2022, aimed at involving young creative people in the development of urban public spaces.
The contestants were asked to develop and present projects aimed at developing new public spaces and improving the quality of the urban environment. The competition was held within two age groups and different categories: improvement of courtyards, public spaces, popular shopping areas; creation of pedestrian infrastructure; architectural image of Russia; individual residential building; rural area; small architectural forms; landscape design; Eco architecture.
The internal stage of the competition was held from 9 to 11 June 2022 as part of the International Exhibition of Architecture and Design ARCH Moscow. More than 1,000 applications from different cities of Russia were submitted. 250 people passed to the internal stage of the competition.
KSUAE adequately presented its architectural school at this competition. Elina Timergalieva, a 5th year student of the TPA department, became the winner and got a 1st degree diploma in the Eco-Architecture nomination and an invitation to an internship at the leading design institute Mirproekt. Anastasia Ermakova, a 4th year student of the Department of Engineering and Pedagogical Engineering, got a 2nd degree diploma in the nomination "Architectural image of our city".
Congratulations to the head and students of KSUAE with the victory, we wish you further creative success!
The News is submitted by International Relations Dept of the University.