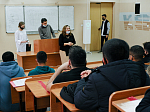 19/10/2021
A meeting with foreign students was held at KSUAE
This academic year, 63 students from near and far abroad came to our university for training. A total of 240 foreign students study at KSUAE.
The seniors of the University and the President of the Association of Foreign Students and Postgraduates of Kazan Nusratillo Negmatovich Dzhuraev, the head of the Association of Foreign Students of KSUAE Akhmed Kaipbergenov spoke to the students.
For freshmen, this meeting was especially important and useful, since among the main issues were: organization of training, migration policy, living in a hostel, student safety, student participation in the cultural and sports life of the university, city and republic. Those vaccinated against Covid 19 were awarded certificates. They also discussed the event for foreign and Russian students "Friendship Day".
The News is submitted by International Relations Dept of the University.