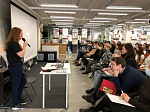 14/10/2021
KSUAE student Taliya Nurutdinova talked about her internship at the BIG architectural bureau (Denmark)
Taliya Nurutdinova, a KSUAE student, spoke about many interesting aspects of organizing the work of the world famous bureau at the meeting "Mustard" in "BFFT.space".
A large number of interested students and alumni of KSUAE gathered at the event, because it was an exceptional opportunity to learn about BIG projects that had not yet been made public. Talia told about how they were invented, how they were worked out in detail together with the customer and Bjarke Ingels himself. She also told them how the bureau survived the first lockdown, how quickly it was possible to establish remote work of a large bureau with representative offices in several countries of the world (Denmark, USA, Great Britain and Spain).
Talia shared many important secrets, talked about how sometimes she had to work until 3 in the morning, how many times she had to redo materials until they completely satisfied both the bureau and the customer. Still, it is worth noting that all the efforts and funds invested (Copenhagen is a very expensive city for life) is an investment in the future, in a career and profession, and they are certainly worth it!
The News is submitted by International Relations Dept of the University.