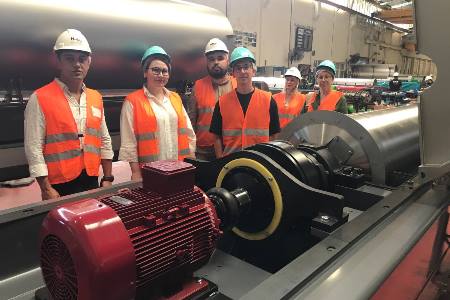 25/08/.2021
KSUAE hosted the UTEST COMPANY, leading manufacturer of test equipment
On the basis of our Institute of Transport Structures (ITS) in the scientific and educational center "Roads" a presentation of the UTEST company was held on the topic "Laboratory equipment UTEST / CFU for testing road and concrete structures."
The event was organized jointly with the Ministry of Transport and Roads of the Republic of Tatarstan and State Public Institution "Glavtatdortrans" with the direct participation of UTEST (Great Britain / Turkey).
UTEST is a British-Turkish company that is a leading manufacturer and supplier of testing equipment for asphalt concrete, bitumen, concrete, cement, soil and aggregates used in road and civil construction in Turkey and over 80 countries.
The event was attended by representatives of the customer of the Republic of Tatarstan - GKU "Glavtatdortrans", as well as 21 contractors of the road industry and quality control in the field of road construction.
The presentation was made by Mark Selzhdi, Managing Director of UTEST.
Mark Selzhdi presented modern testing and research equipment for determining the properties of road building materials: bitumen, crushed stone, soil, cement concrete and asphalt concrete, including those designed according to the Superpave methodology, as well as equipment that combines express methods for determining the life of pavements highways implemented in a single measuring complex.
The presented material gave the participants an opportunity to familiarize themselves with the products of UTEST at a high technical level, as well as improve their qualifications in terms of methods for diagnosing and predicting the properties of the main road-building materials in our Republic - asphalt concrete, materials for road pavements and subgrade soils.
At the end of the seminar, the participants visited the research and educational centers of our University. The guests highly appreciated the material and technical equipment of the centers and an integrated approach to their implementation, and also wished success in creating new scientific and educational spaces.
Mark Selzhdi expressed his readiness for further personal participation in interaction with KSUAE in the field of scientific and educational activities.
The News is submitted by International Relations Dept of the University.