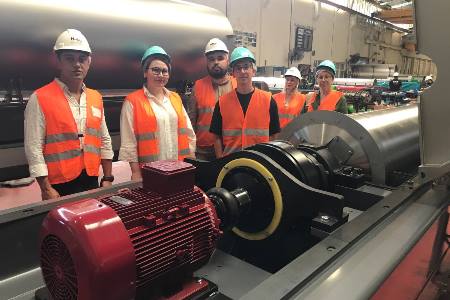 30/03/2021

Yesterday the Minister of Transport and Roads of the Republic of Tatarstan Farid Khanifov visited KSUAE.
Our Rector Rashit Nizamov, Vice Rector for Research Yevgeniy Vdovin and Director of the Institute of Transport Structures Aleksey Fomin demontstrated him our innovative academic and research Center "Roads". Here Farid Khanifov gave welcome speech to the employees of regional road construction enterprises who attended the advanced training courses «Construction safety and design quality of roads and airfields» and «Construction of highways and advanced technologies of construction and operation at particularly dangerous, technically complex and unique facilities». The courses are organised on the initiative of the President of the Republic of Tatarstan Rustem Minnikhanov, with the support of our Rector Rashit Nizamov, the Ministry of Transport and Roads of the Republic of Tatarstan and Public institution «Glavtatdortrans».
In his speech the Minister drew attention to the current problems and challenges of the road and transport industry, stressed the importance of constantly increasing the level of professional competencies of the employees, the need to acquire new knowledge and study innovative technologies. The Minister hopes that the courses at the Institute of Transport Structures of KSUAE will help in solving these problems, since they are conducted by leading teaching staff of KSUAE, specialists with work experience at large companies and professors invited from Russian and foreign partner universities. The courses are held at the modern academic and research Center the "Roads", equipped with modern equipment.
Further, the Minister visited an exhibition of creative projects of the students of our Institute of Architecture and Design, as well as a personal exhibition of paintings made by the artist, Honored Architect of the Republic of Tatarstan, member of the Union of Architects of the Russian Federation, academician of the International Academy of Art and Culture, professor of KSUAE Ravil Aydarov.
The Minister visited also our new Academic, Research and Design Center for territorial and spatial development of cities "Urban Planning". This is the 6th innovative platform of KSUAE, aimed to increase the efficiency of personnel training in the field of "Urban planning", profiles "Urban planning" and "Landscape design", research activities and projects on development of territories, etc.
The News in English is submitted by International Relations Dept of the University.