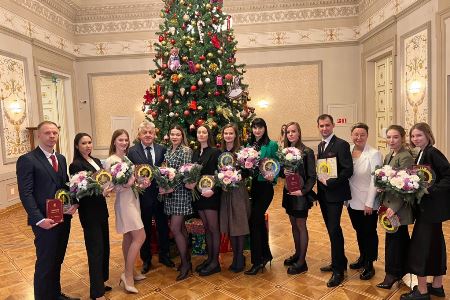 15/02/2021
On February 11, 2021, the Mayor of Kazan Ilsur Metshin together with the Chief architect of the city, the Head of administration of the Vakhitovsky and Volga regions visited our University and met with our students and graduates of architectural sciences - winners of the competition for the Grant of the Mayor of Kazan.
During the visit our scientists demonstrated their innovative scientific developments. The Mayor of Kazan expressed interest in the developments of the University staff and offered to continue cooperation to solve the actual issues of the city development.
In the architectural and educational space "BFFT.space" within the framework of the Russian Year of Science and Technology, a meeting was held with our students and graduates who underwent internships in the best foreign and Russian architectural and design studios thanks to the grant from the Mayor of Kazan and were able to further realize their creative potential in the profession.
Our Rector Prof. Rashit Nizamov spoke about the future plans of the University to create the Urban Planning Center, Miras Restoration Center, and Agach Wooden Art Center.
The Mayor of Kazan noted that the decision on internships for our students in the best architectural companies in Russia and the world was correct. "After the Millennium of Kazan, we thought about how to change Kazan, how to find new growth points. And the answer was on the surface - it is, of course, our youth. Creative, talented students who must receive an appropriate education, see the best practices in the world and, together with us, try to change Kazan. We are proud of your success. You are real architects, our gold fund. Follow what we are doing in Kazan, share your ideas, participate in the development of the city. We are always ready to cooperate with you", Ilsur Metshin.
The Mayor proposed to hold a forum in Kazan in the fall 2021 at our University inviting graduates who today work not only in Kazan, but also in other cities of Russia and the world. "Let all graduates of our university come to this forum, we will provide logistics. You can also join us online, - said the head of the city. - You will be able to present your portfolios, the works that you have done, and in the future, when we start building something new, we will already have in mind your potential. We need to meet, exchange opinions, communicate".
"I love being here… It's nice to see how you grow - it's always nice", said the Mayor. - "You are ahead of development, ahead of time. I wish all your ideas to be embodied in new beautiful objects, in a new Kazan".