09/02/2021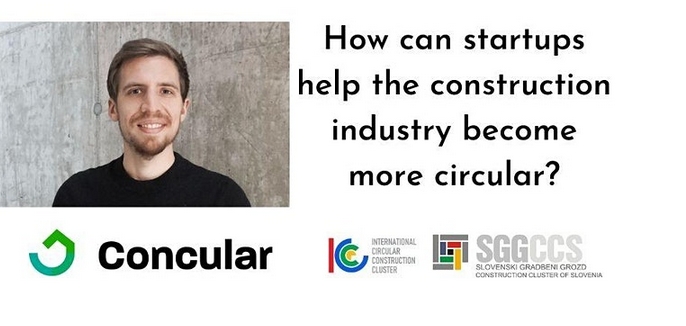 Thu, February 11, 2021
11:30 AM – 1:00 PM (CET time)
Within the collaboration with our University, the Slovenian Construction Cluster (Slovenski gradbeni grozd) invites our professors, builders, engineers, architects, representatives of construction companies interested in the topic to the online webinar "How can startups help the construction industry become more circular?".

The construction industry is the largest consumer of raw materials in the world with a relative share of carbon dioxide emissions.
The construction sector is also an important producer of waste, accounting for 25-30% of all waste generated in the EU, which in majority ende on landfills. For now.
At the same time, this means that the construction sector is an area with many opportunities for innovation, which is becoming even more important given the above-mentioned data, assuming that the global construction market is expected to grow by 85% by 2030.
Construction companies have the opportunity to respond appropriately in a number of areas, from the use of environmentally friendly and smart building materials to reducing emissions from existing buildings at all stages of the life cycle.
The lecture will present the German startup Concular, which supports companies in the construction sector in the use of sustainable practices through a digital platform for intelligent transmission of materials based on data during dismantling and new construction projects and real-time life cycle assessment. The Concular platform thus enables the reuse of construction materials, thus reducing the amount of construction waste, as well as the use of resources and the generation of greenhouse gases.
The platform is useful for builders, portfolio managers, architects, construction companies and retailers who want to reduce both material costs and carbon footprint.
The lecture will also present some successfully implemented projects in Germany, where the startup (and platform) Concular operates.
The lecture will be given by Mr. Dominik Campanella, one of the founders of the Concular. He has experience in computing and management, has worked for Google for several years and has already founded several startups.
The webinar is organized by the Slovenski gradbeni grozd (Construction Cluster of Slovenia) as part of the International Circular Construction Cluster initiative.
The webinar is held in English.
Participation is free.
Registration is here.
After registering, you should get a link to the zoom conference in response to the email received from the organizer after registration.