23/04/2021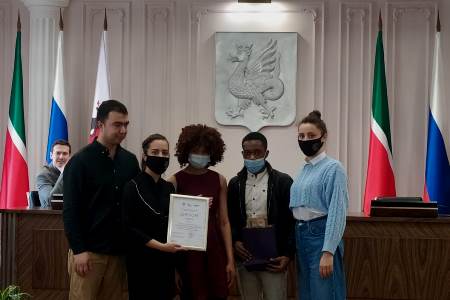 On April 22, 2021, at the town council of Kazan, an award ceremony was held for the winners of the Contest in the Russian language among international students of the Republic of Tatarstan.
The Contest was held in two stages. At the first stage there was a team competition lasting 2 hours. The participants traveled with interest to five fascinating "stations" of the Russian language: "Russian Dictionary", "Live Sound", "Library of Riddles", "Writer's Workshop", "Gramota.ru". The tasks were quite difficult. But our team coped with the tasks perfectly!
To participate in the second stage of the Contest, it was necessary to choose one participant per category: 1, 2 years of study - CIS countries and far abroad students; 3, 4 years of study ad MSc students - from far abroad countries.
This year 17 teams representing universities and institutes of Kazan and the Republic of Tatarstan took part in the Contest.
In the team event, the students of our University (Galiya Galieva, Miguel Fanilu Rosamin Claudio Sandra, Jose Silviu Camutena, Renata Demina) took the FIRST award!
Our sincere congatulations!
The News is submitted by International Relations Dept of the University.