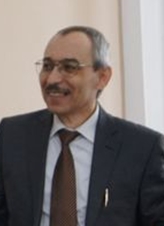 David KORDONCHIK
Vice Rector for Development
Education level: higher education
Major: Industrial and Civil Engineering
Academic degree: PhD in Technical Sciences
Academic title: Associate professor

Work experience: 43 years
Research interests: Using cloud technologies in building design; server system for building enterprise resources management with biometrical identifications and encryption of the data; implementation of information modeling technologies and 3D scanning in the reconstruction projects on historical sites; informational modeling of building objects taking into account the estimated cost and calendar planning; implementation of BIM technologies in engineering higher education; implementation of technological and management innovations: BIM model in architecture, design, construction and operation.
Number of Publications (for the last 5 years): 20, among them research papers – 19; teaching-methodical papers – 1; publications included in the list of leading peer-reviewed scientific journals and publications recommended by the Russian State Commission for Academic Degrees – 3.
Languages: English
In 2006 Dr. Kordonchik founded at KSUAE the new course "Information systems and technologies" (in civil engineering). The course was successfully accredited.

Since 2008 David Kordonchik is Vice Rector for Development (responsible for organizational, legal and social issues, information technologies of the University).
In 2008 - 2019 David Kordonchik was the Head of the Department "Information systems and technologies in construction and CAD systems" at the University.

Since 2022 - Vice-Rector for Digital Technologies.