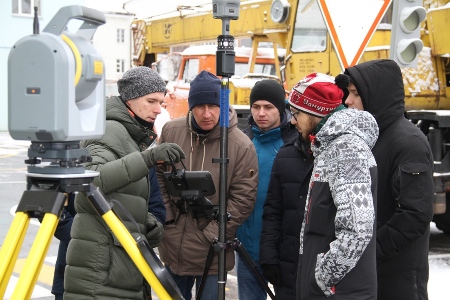 16/11/2021
At our Department of Road-Building Machines, a vocational course "Specialist in the field of engineering and geodetic surveys" started
Among the trainees of professional retraining courses there are students graduated from technical schools and universities, including KSUAE, working in this area of ​​construction.
The main objectives of the type of professional activity of Professional standard 10.002 "Specialist in the field of engineering and geodetic surveys" is to obtain engineering and geodetic information about the area for use in urban planning activities. The descriptions of labor functions included in the professional standard include: performance of engineering and geodetic works, management of engineering and geodetic works, technical management of engineering and geodetic surveys.
Learning tools include the latest Trimble SX10 Scanning Total Station, a tool that provides a wealth of geospatial data in a short amount of time. It is ideal for shooting subjects both outdoors and indoors. A total station, laser scanner and digital cameras are combined in one instrument. The accumulated data can be sent to previously created projects, implemented using traditional geodetic instruments. The Trimble SX 10 is a revolution in surveying.
The News is submitted by International Relations Dept of the University.