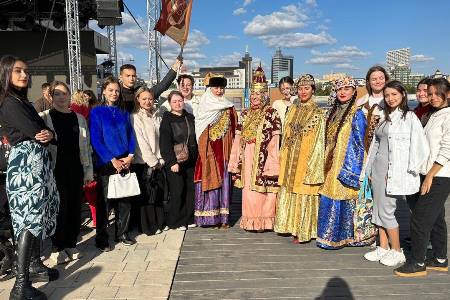 02/04/2021
On 2nd April students of our Institute of Economics and Construction Industry Management (academic course "Expertise and real estate management") and Institute of Civil Engineering (academic course "Industrial and civil engineering) of KSUAE met with UD Group Company representatives.
The Chief Human Resource Officer of UD Group Zulfia Chernova explained students that UD Group is engaged in the construction and management of commercial, office and hotel segments of commercial properties. Among the key objects there are Trade Center «GorkiPark», Trade Center "KazanMall", hotel «Ramada», business center «Sphere», network of offices «Smart Space», business center «Ostrovsky» etc. The portfolio of promising projects is more than 200,000 sq.m. and includes the first retail park Trade Center «Tsarevo» and Trade Center «ART City Mall». One of the main Company's goals is to find and implement innovative ideas in the construction, sale and operation of real estate.
UD Group inspired students to step up with their own innovative projects promising a cash prize to the top three winners, the opportunity to implement a project in the UD Group Company, to upgrade skills and to get the feedback on the project from experts".
The News in English is submitted by International Relations Dept of the University.