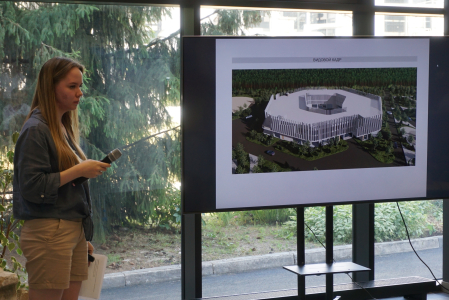 09/07/2022
KSUAE graduates-architects presented their diploma projects to potential employers
On July 8, 2022, the regular review of graduation projects of the Institute of Architecture and Design was held at KSUAE. The event was attended by professional architects of the city of Kazan, including: the chief architect of the city of Kazan I.M.Tukhvatullina, Deputy Chief Architect T.E. Kadyrov, Head of the Department for the Protection of Architectural Monuments and Cultural Heritage of the Department of Architecture and Urban Planning of Kazan L.R. Solovyov.
The uniqueness of this event is that the best students of the Institute of Architecture and Design of KSUAE have the opportunity to present their projects and introduce themselves, in particular, to the leading design organizations in the region of Tatarstan, and some of them find a future job already at the university without passing private interviews. Last year, about 30 graduates presented their projects and most of them received job offers. Such events let the heads of architectural and construction companies attract the best students to their organizations, as well as KSUAE graduates remain working in the industry for the benefit of their native region.
This year, 46 students of various architectural fields have presented their final qualifying works, potential employers from both public and private organizations have participated. The eight-hour event ended with a "feedback" from the guests - many spoke about how pleasantly surprised by the high level of training and professional knowledge of students, about the excellent computer graphics of the presented projects. The guests unanimously recommended that the graduates further develop their creative potential in the profession, going on also with the MSc programmes. As a result of the meeting, 15 people were invited for an employment interview, three - for targeted training in the MSc programmes.
The News is submitted by International Relations Dept of the University.