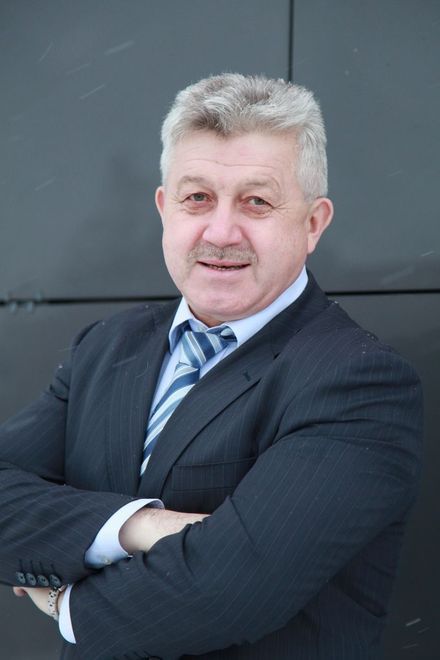 Rashit NIZAMOV
Rector
Doctor of Technical Sciences, Professor
Honored Worker of Science of the Republic of Tatarstan
Honorary Worker in Education of the Russian Federation

Department: Technologies of building materials, products and structures
Taught subjects: "Technology of concrete, building products and structures", "Concrete science", "Metrology, standardization and certification"
Education level: higher education
Major: Production of building items and structures
Academic degree: Doctor of Technical Sciences, major «Building materials and products»

Academic title: Professor
Work experience: 42 years
Research interests: building materials science (polymer building materials and high-strength concrete); development of new highly effective building materials and products, expanding their commodity base, creating low-energy and non-waste technologies
Number of Publications: 223, among them research papers – 186, patents – 8, teaching-methodical papers – 23 and 6 training aids. The results of the papers are included in the international catalogue of scientific and technical developments of the UNESCO.

Chief-Editor of the Research and Technology Journal "KSUAE News" which is in the list of leading peer-reviewed scientific journals and publications recommended by the Russian State Commission for Academic Degrees
Supervisor and consultant for: two PhD dissertations, three PhD students and one Doctoral Thesis
Chairman of the Dissertation Council, in the area of «Building structures and buildings» and «Building materials and products» based at KSUAE.
Languages: English, German
On September 12, 2008 Prof. Nizamov was elected as Rector of the Kazan State University of Architecture and Engineering. In 2013 and 2021 he was re-elected as Rector again.
Date and place of birth: May 23, 1957 / Buinsk town, Tatarstan Republic, Russia.

AWARDS AND RANKS:
Honored Worker of Science of the Republic of Tatarstan (2011).
Honorary letters of the President of the Republic of Tatarstan (2012).
Medal of Distinction «For Labour and Valour for the Benefit of Kazan city» (2017).
Medal "For Valorous Labour" (2017).
"Honorary Worker in Education of the Russian Federation" (2017).
Gratitude for personal contribution to the implementation of the federal project of the All-Russian political party "United Russia" "City Environment" (2018).
Letter of gratitude from the President of the Volleyball Federation of the Republic of Tatarstan (2020).
Certificate of Appreciation of the President of Russian Federation (2020).
Medal "100th anniversary of the Tatarstan Republic" (2020).